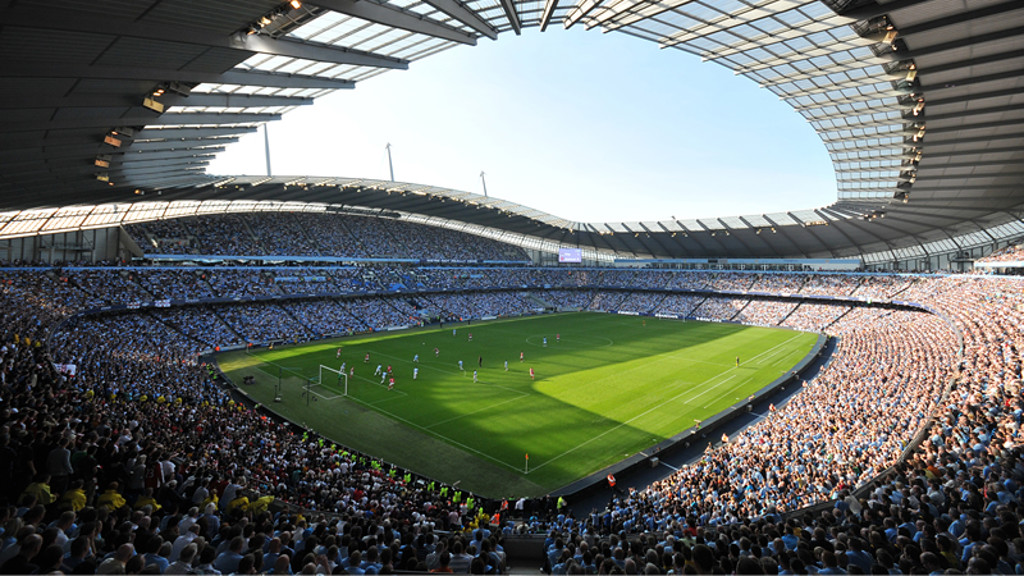 Hospitality and Guest Wi-Fi Terms of Access
You have connected your device to the "CFG" network. This is a public wi-fi network which is made available free of charge by City Football Group to enable our guests to access the internet whilst within certain areas of the stadium.
This wi-fi network is owned and operated by City Football Group Limited, a company registered in England and Wales with company number 8355862. Our registered office is at Regent's Place, 14th Floor, 10 Brock Street, London, NW1 3FG.
To protect you, ourselves and other users of this service, we require you to comply with certain obligations when you are using the service. Please read these terms carefully and only proceed if you agree to comply with these terms. If you do not agree with these terms, you should immediately disconnect your device from the network.
USING THE SERVICE
Access to this service is permitted where and when available. We provide no guarantee that the service will be available in any particular part of the stadium (or at all).
From time to time we may need to suspend access of the service, or place restrictions on its use, in our absolute discretion.
If you use the service to access a City Football Group website, this website will be subject to its own terms of use, and you must comply with all applicable terms regarding the use of that website in the same way that you would if you accessed it from any other connection.
If you use the service to access any website which is not a City Football Group website, we are unable to accept any responsibility for the content of that website or provide any guarantees or assurances in respect of your use of that website. You should review and comply with aHospitny particular terms which are applicable to that website.
Due to the way in which public wi-fi networks such as this service work, we are unable to guarantee the security of your connection or of any content that you send or receive over the connection. We therefore strongly recommend that you do not use our service to access secure websites such as internet banking or email services.

RESTRICTIONS
We reserve the right to filter use of the service to prohibit access to particular websites or IP addresses or particular categories of content. We provide no guarantee that any particular content will be accessible through our service, even if it would usually be accessible over the general public internet.
Our decision to block or not to block any particular content is made in our absolute discretion and should not in any way be taken as an indication of our opinion of that content or to express any view as to whether or not that content is appropriate.
You must not attempt to circumvent or avoid the filtering technology deployed on this service in any way.
PROHIBITED USES
You may use the service only for lawful purposes. You may not use the service:

in any way that breaches any applicable local, national or international law or regulation;
in any way that is unlawful or fraudulent, or has any unlawful or fraudulent purpose or effect;
for the purpose of harming or attempting to harm minors in any way or to solicit personal information from anyone under 18 years of age, soliciting passwords or obtaining personal data for commercial or unlawful purposes;
to transmit, or procure the sending of spam;
to send, knowingly receive, upload, download, use or re-use any material which:

is inaccurate;
expresses an opinion which is not genuinely held;
contains any material which is defamatory or derogatory of any person;
contains any material which is obscene, offensive, hateful or inflammatory;
promotes sexually explicit material, violence, any illegal activity or discrimination based on race, sex, religion, nationality, disability, sexual orientation or age;
infringes any copyright, database right, trade mark or other intellectual property right of any person;
is likely to deceive any person;
is made in breach of any legal duty owed to a third party, such as a contractual duty or a duty of confidence;
is threatening, abusive or invade another's privacy, causes annoyance, inconvenience or needless anxiety, is likely to harass, upset, embarrass, alarm or annoy any other person; and/or
advocates, promotes or assists any unlawful act such as (by way of example only) copyright infringement or computer misuse; or

to knowingly transmit any data, send or upload any material that contains viruses, Trojan horses, worms, time-bombs, keystroke loggers, spyware, adware or any other harmful programs or similar computer code designed to adversely affect the operation of any computer software or hardware.

You also agree:

not to use automate scripts to collect information from or otherwise interact with the service;
not to access without authority, interfere with, damage or disrupt:

any part of the service;
any equipment, network or software used in the provision of the service; or
any equipment or network or software owned or used by any other person connected to the wi-fi network or any third party; and

in using our service you will not impersonate any person, misrepresent your identity or affiliation with any person, or give the impression that the material emanates from us (if this is not the case).

YOUR RESPONSIBILITY TO US
You must only use the service in accordance with these terms, and generally in good faith and in the manner in which is intended.
If you allow any other person to use your device whilst it is connected to our wi-fi network, you must make that person aware of these terms and you will be responsible for any use made of the service by that person.
If you use the service in a way which is not permitted (or which is specifically prohibited) by these terms and as a result we suffer any loss, damage, cost or expense (for example, a third party brings a claim against us because it claims that you used the service to do something which infringed that third party's rights) then we will be entitled to recover from you all losses, damages, costs and expenses that we can prove we suffered as a result of your misuse of the service.

OUR RESPONSIBILITY TO YOU
Our wi-fi network is provided to you as a free service, and we are unfortunately unable to offer any particular service level guarantee or accept any responsibility for any loss or damage that you suffer as a result of your use of the service or any interruption in or other inability to access the service (or any particular content).
This service is intended for personal, not business, use. If despite this you do use this service for business purposes then we cannot be held responsible for any business losses that you (or any other individual or company) suffers as a result of this use.
If, notwithstanding the previous paragraphs, a court or other body of competent jurisdiction holds that we are liable to pay damages to you in respect of a breach of these terms or otherwise arising out of or in connection with your use (or inability to use) the service, you agree that our liability to you for any and all such claims, regardless of the legal cause of action, will be limited to a maximum of £1,000.
As we are providing this service to you at no charge, we are only prepared to do so if our responsibility to you is limited as set out in the previous paragraphs. If you do not believe that these limitations are reasonable you should therefore not use the service.
Nothing in these terms shall not operate so as to exclude, limit or restrict our liability for death or personal injury, fraud or fraudulent misrepresentation or for any other liability the exclusion or limitation of which is not permitted by English law.
YOUR PRIVACY
To protect your privacy, we do not require you to provide any information about yourself to access and use this service.
As with all public wi-fi networks of this nature, when you connect to the network it will collect certain information about your device. This is necessary for technical purposes to enable us to provide the service to you. We do not take any steps to link this information to you nor to track your activity or location when using the service.
For more information about how we handle and protect your personal data in general, please visit https://www.mancity.com/common/privacy.
OTHER NETWORKS
Whilst you are at or in the vicinity of our stadium, your device may detect other wi-fi networks. Where these networks are available for you to use, they will be subject to their own terms of use. We can accept no responsibility for any networks which are not owned and operated by us.
GENERAL
We reserve the right to change these terms at any time. Please check these terms each time you connect to the wi-fi network for any changes.
If any provision of these terms shall be unlawful, void or for any reason unenforceable then that provision will not apply but this will not affect the validity and enforceability of the remaining provisions.
Any dispute, controversy, proceedings or claim of whatever nature arising out of or in any way relating to your use of this service will be governed and construed in accordance with English law. You and we hereby accept the exclusive jurisdiction of the English courts.